Trulah Aubertin Burwell and Ratliff Information
The following information was received from Helen Burwell. Trulah was the oldest child (Born 1891) of William James Aubertin I and Annie Rebecca Ratliff Aubertin; and, Helen was for many years, until his passing, married to Trulah's son, William Frank Burwell. Helen was kind enough to share the information in her posession with me, James R. Saunders Jr., so that it might be included with the body of Family Information. Until I made contact with Helen this branch of the family had been "lost" to several other branches of the family. Happily they are now found and are included here. The following information is self explanatory. (JRS)
The following is the text of an e-mail from Helen Burwell to myself, James R. Saunders Jr. (Received December, 2008)
Dear Jim:
My name is Helen Burwell, I am the grand daughter-in-law of Rebecca Ann Ratliff Aubertin. I was married to the son of Trulah Aubertin Burwell for 48 years. William Frank Burwell died, August 27, 2001. He worked for Hughes Tool Co. for 43 years. We have 3 sons : James (Jim)
Frank Burwell,age 63...Known as the Dog Whisperer of Houston, former owner of "Rover Oaks Pet Resort.
William (Bill) Marshall Burwell, AIA, age 60. Been in the Architectural business for over 30 years, Owns his own Company.
Ted Carlton Burwell, age 51. Works for B,H.P. Oil & gas Co. He is in the Internet Technology Division.
And, Oh yes, William M. has a son, & 2 daughters, Sarah & Rebecca Ann the others do not have children.
Andrew Marshall Burwell, age 36...works for Slumberger.
Grandsons of Trulah Aubertin Burwell.
Great Grandsons of Rebecca Ann Ratliff Aubertin.
Great-great of Mary Ann and Lorenza M. Ratliff.
Trulah Aubertin Burwell was married to J.F. Burwell Jr. They had the 2 children.
Trulah A. Burwell Everett......she had one daughter...Trulah B. (Burwell) Everett Monroe, William Frank Burwell (the 3 sons mentioned above.)
I do have pictures of Trulah & W.J. ( your grandfather )with their mother...Rebecca Ann Aubertin. And other pictures of Trulah. I will try to get them to you when one of my guys comes by and shows me how to do it.....I may just copy them and send you a copy via mail......
By the way, I am 87 years old, and not too 'swift' on the computer..... I may be able to get you the wording on the Historical Marker at the old family cemetery at Roans Prarie.
This is me Mothers Day 2008 We have a family link and as soon as I can find it I will send to you or web page....or something like that.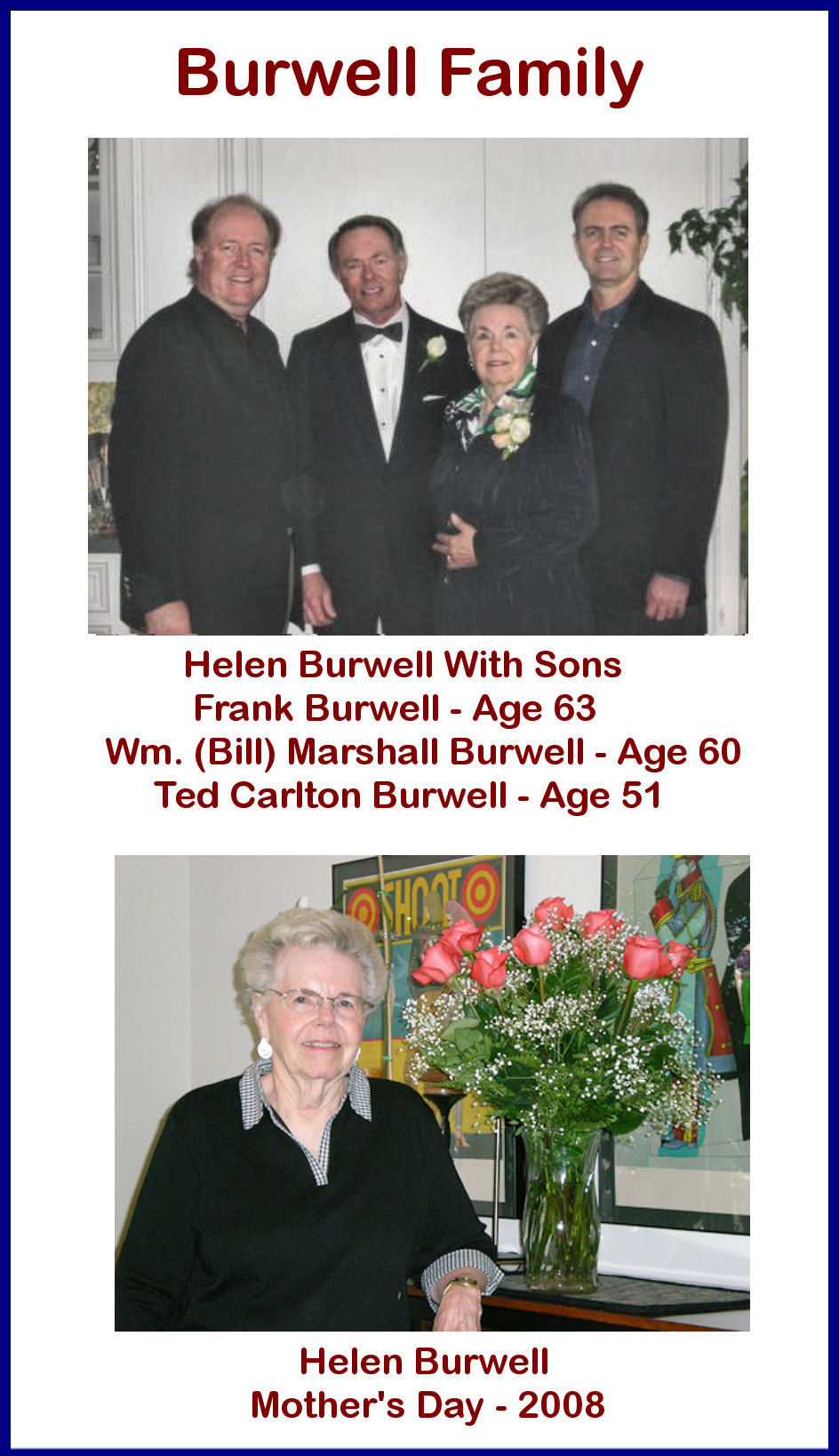 The following is the text of an e-mail from Helen Burwell to myself, James R. Saunders Jr. (Received December, 2008)



THE FOLLOWING GRAVES ARE AT "RATLIFF HILL CEMETERY"
ROANS PRAIRIE, TEXAS
PARENTS OF REBECCA ANN AUBERTIN
MARY ANN AND LORENZA M. RATLIFF
Lorenza M Ratliff
Born 1826
Died Oct. 24, 1879
Mary Ann Ratliff
Born June 22, 1826
Died April 13, 1911 at 1701
Harrington, Houston, Tx.
Age 49 yrs. 11 months
(As "Great-ma" told me, her Mother was carried to Roans Prairie on a train that ran near their home place and the train stopped at the foot of the hill and the pallbearers carried her casket up the hill to the grave. )

Girl Child
Mary Ann Ratliff
Born April 21, 1849
Died March 1866
Age 17
Boy Child
Andrew J. Ratliff
Born Feb 14, 1857
Died Feb. 13, 1873
Age 16
Boy Child
Martin L. Ratliff
Born April 5, 1850
Died July 6, 1879
Age 29
Man Child
Lorenza Dow Ratliff
Born May 4, 1868
Died Nov 15, 1908
Age 40
3 Infant graves believed to be children of Lorenza Dow Ratliff.
This information came off the head stones at the cemetery . A Historical Marker has been placed at this cemetery in Grimes , Co. Tx. Reason : The last white girl to be killed, in Texas, by Indians. Left this place on her way to Huntsville , and was killed.