Saunders' Family Tree
"Preserving Yesterday For Your Children's Future"
Welcome to Saunders' Family Tree. Saunders Family Tree represents the application of the latest restoration technology and professional presentation skills dedicated to the preservation of family heritage at the lowest possible price.
Saunders' Family Tree began as a preservation effort to preserve the heritage of the Saunders family. In 2006 and 2007 my parents Jim Bob and Rebecca (Polly) Saunders passed away. While sorting out the possessions remaining in the family home my Brother, Sister, and myself discovered what most people find in like circumstances - boxes of old family photographs dating back into the 1860s, newspaper articles referencing family members, lineage charts for different branches of the family, a stack of Family Bibles from different branches with births, deaths, and marriages recorded inside, marriage licenses, death certificates, old wills from the Civil War era, Confederate money, land deeds, applications from great-great-great grandfathers for Revolutionary War pensions, Battle Reports from Civil War engagements in which my great-great grandfather commanded troops, and other family documentation too voluminous to list.
The question of what to do with all this heirloom family material was immediate. At first it seemed that we would just divide it all up between my brother, sister, and myself. Had we done this, all of this valuable family information would have been relegated back to boxes in closets and would probably never see the light of day again until our deaths. At that time all living memory of these items would have been lost.
As I looked through this material I was overwhelmed by the emotion it provoked. Suddenly it was unacceptable to me that all the memory of the family I had loved and who had shaped my life and the destiny of the family would be lost to future generations. I realized I owed it to the beloved family members who preceded me to preserve their memory and contributions; and, I equally owed it to the future generations to see that they received the knowledge of who they really were and that they were able to fully participate in the rich heritage that was theirs.
The above realization produced the effort that is the "Saunders Family Tree" web site. I believe that of all the things I have accomplished in life, this effort to connect past generations with future generations is my single greatest achievement for my family. If you were to undertake this effort for your family you would feel the same. I know this to be true because myself and my family are not unique. If what I have said here touches a chord within you and you realize that you think and feel as I did, please read on for a full explanation of how you can accomplish the same for your family with the assistance of the "Saunders' Family Tree".
(1) Get out all the boxes of your family photographs and papers and sort them into family branches. Write on the back of the photographs who they are. Put each branch into a separate large envelope. If you elect to use Saunders' Family Tree I will provide you with these envelopes free.
(2) I can come to your home with my computer equipment and copy your photographs and papers there. Your family treasures will never leave your possession.
(3) I will perform restoration efforts on all your photographs and papers to an agreed upon level. (This done on the copies made.)
(4) All your papers and photographs will be put into digital format and put onto a CD that will function in your computer just as the Saunders Family Tree web site performs. I will also furnish multiple CDs for all your family members so everyone has everything. Excellent hard copy photographs can also be made from the photo files on the CD.
At this point I am sure you are wondering how much this would cost. The answer is - not much. I charge an hourly rate of $15 an hour. This is very reasonable and is this reasonable because this is for me both a hobby and retirement business I'm not trying to make a lot of money by doing. Making friends of customers and a little money is good enough for me. However, the sense of satisfaction for yourself and the reward to future generations of your family are enormous.
If you feel the same toward your family as I do mine and think I can be helpful to you - Please Call! I will be delighted to hear from you at:
830 - 899 - 3917
Below is what I call my "Gallery of Restored Images". The images below are of both photographs and documents - before and after restoration. They will serve as examples of what can be accomplished through restoration efforts. A brief explanation of each will be provided. Please review the images and then return to the Home Page by clicking the link provided and tour the full web site. Your family history can be done the same way. Thank you and I hope to hear from you soon! -- James R. Saunders Jr.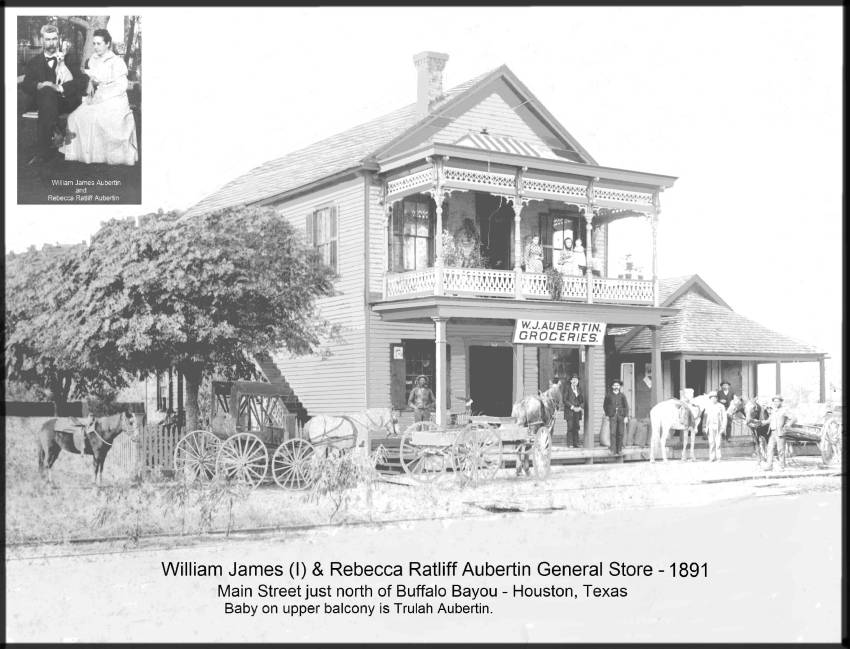 The above photograph is the General Store owned by my great grandfather. It was located on Main Street in Houston, Texas just across Buffalo Bayou from downtown. The photograph below is the original scan from which the restored image was created. The original scan was made from the actual 117 year old photograph.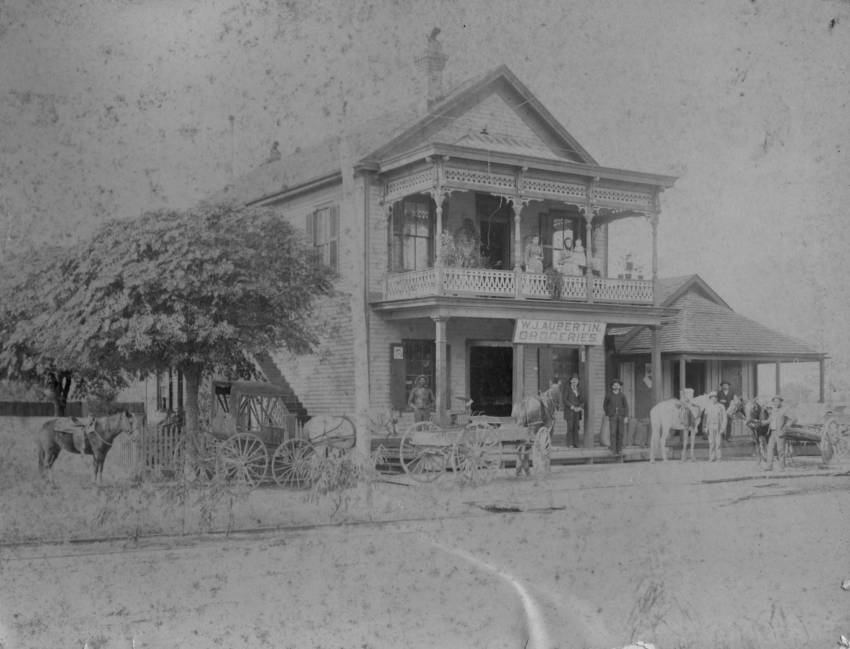 ___________________________________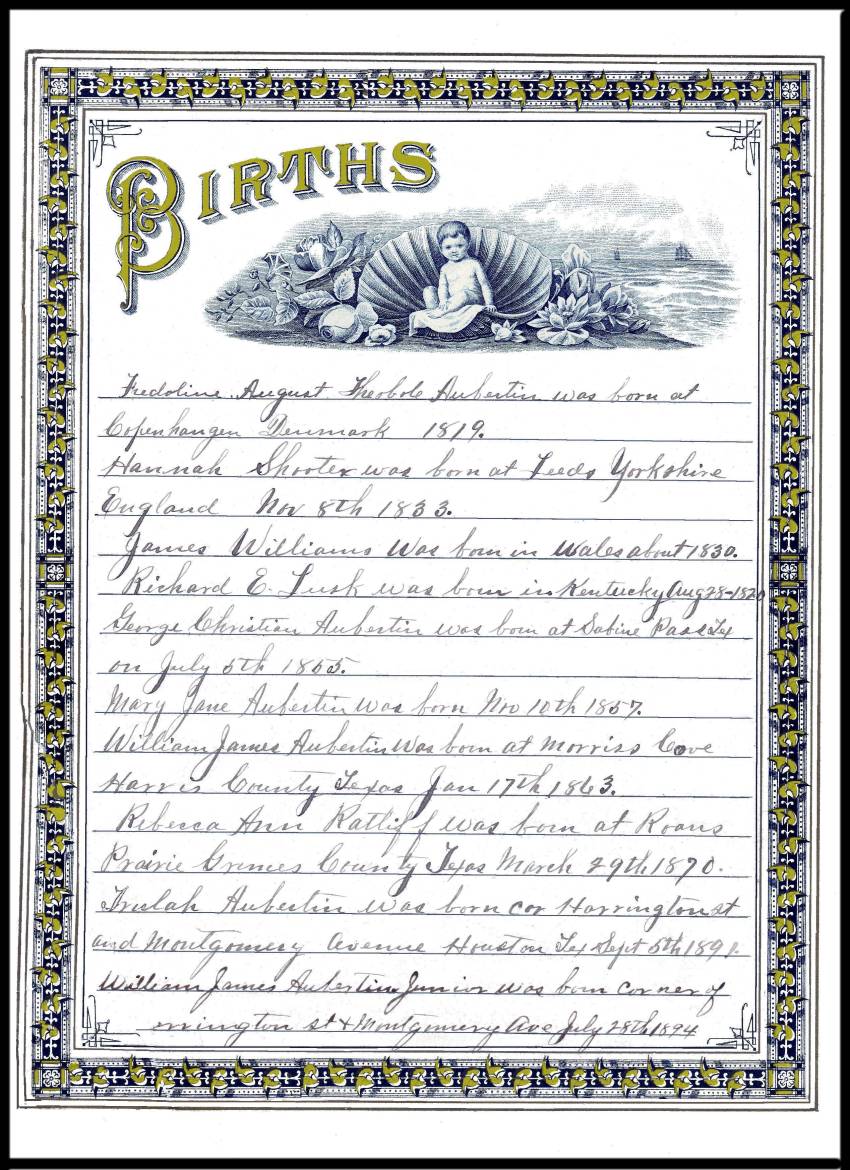 The image above is a restored page from the Aubertin branch of my family. The original image appears below. This Bible was a wedding gift to my great grandparents in 1890.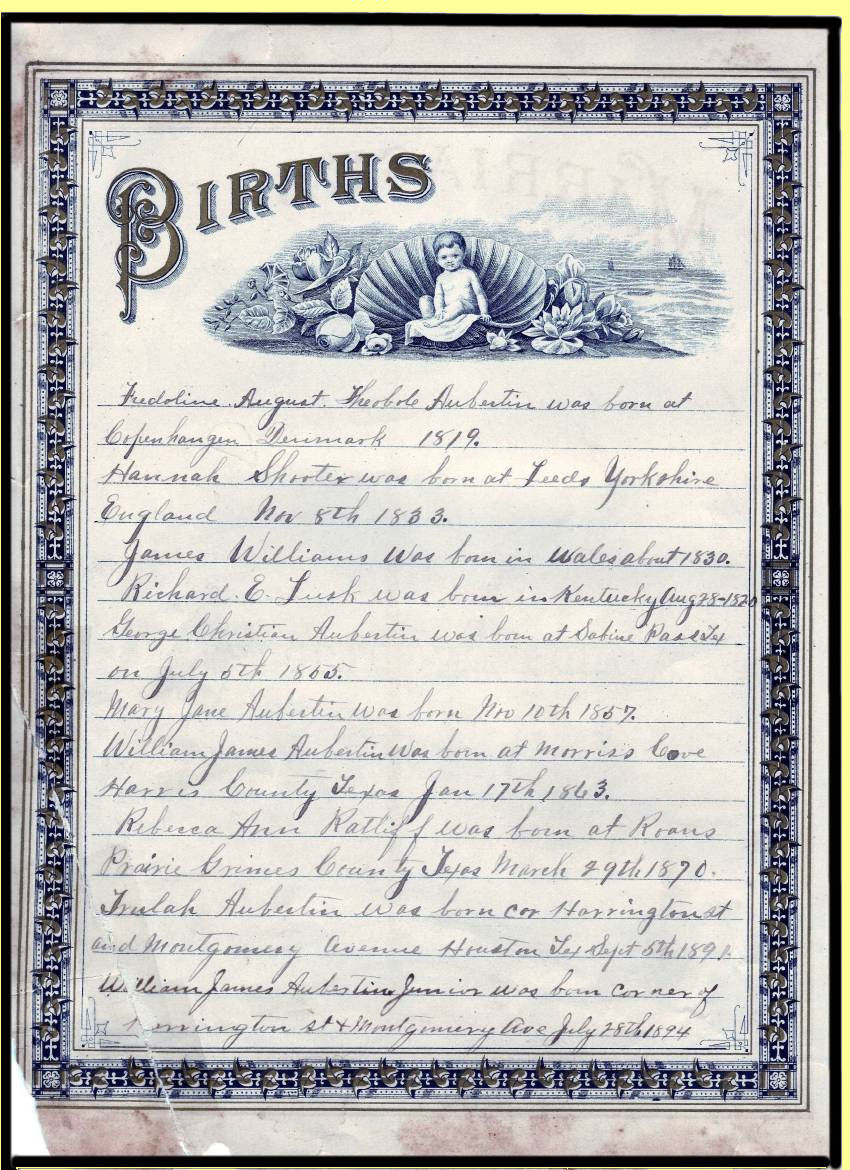 ___________________________________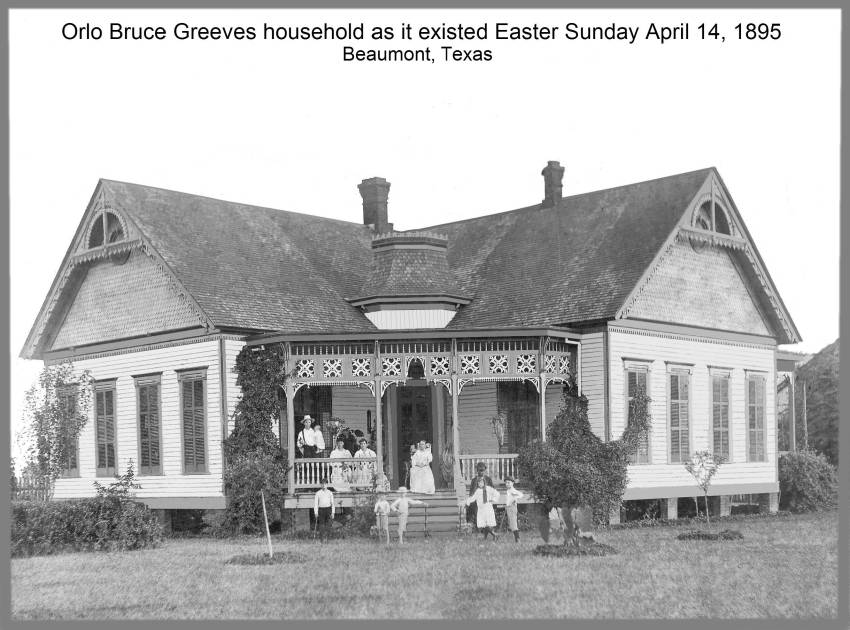 The photo above is the home owned by my great grandfather and great grandmother. The baby the man on the porch is holding is my grandmother. The photo below is the original 112 year old photograph.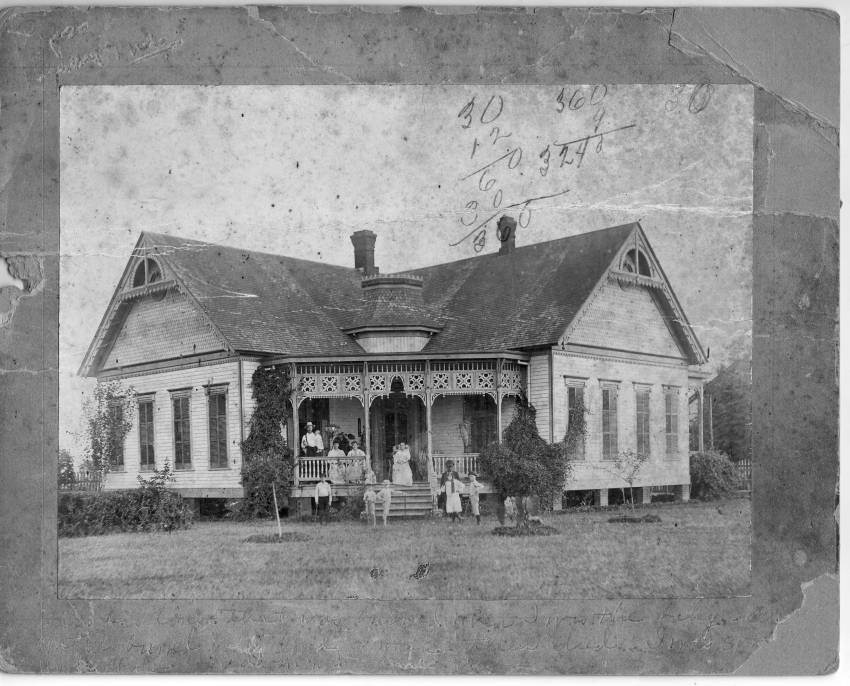 ___________________________________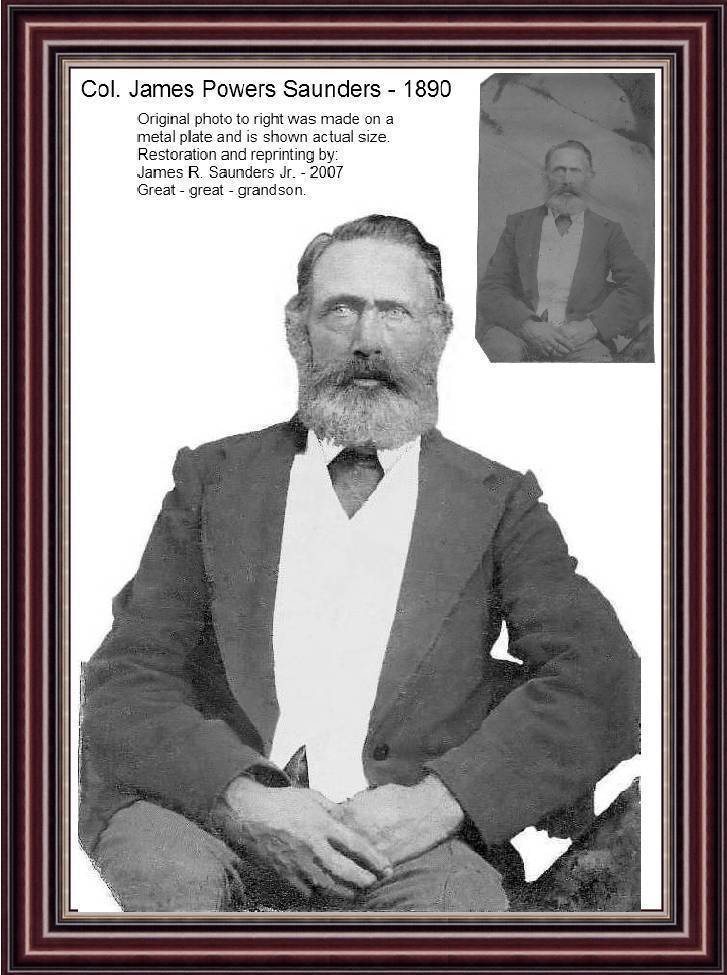 The above photograph is my great-great-grandfather. It was made on what is known as a "tintype". Regardless of the name, the photo was actually shot on a bronze plate as were most or all tintypes. Bronze is 90% copper and 10% tin and will not rust. I suppose that "tintype" stuck as a name because it just flowed easily off the tongue. The original tintype image is shown as an inset and is shown actual size.
___________________________________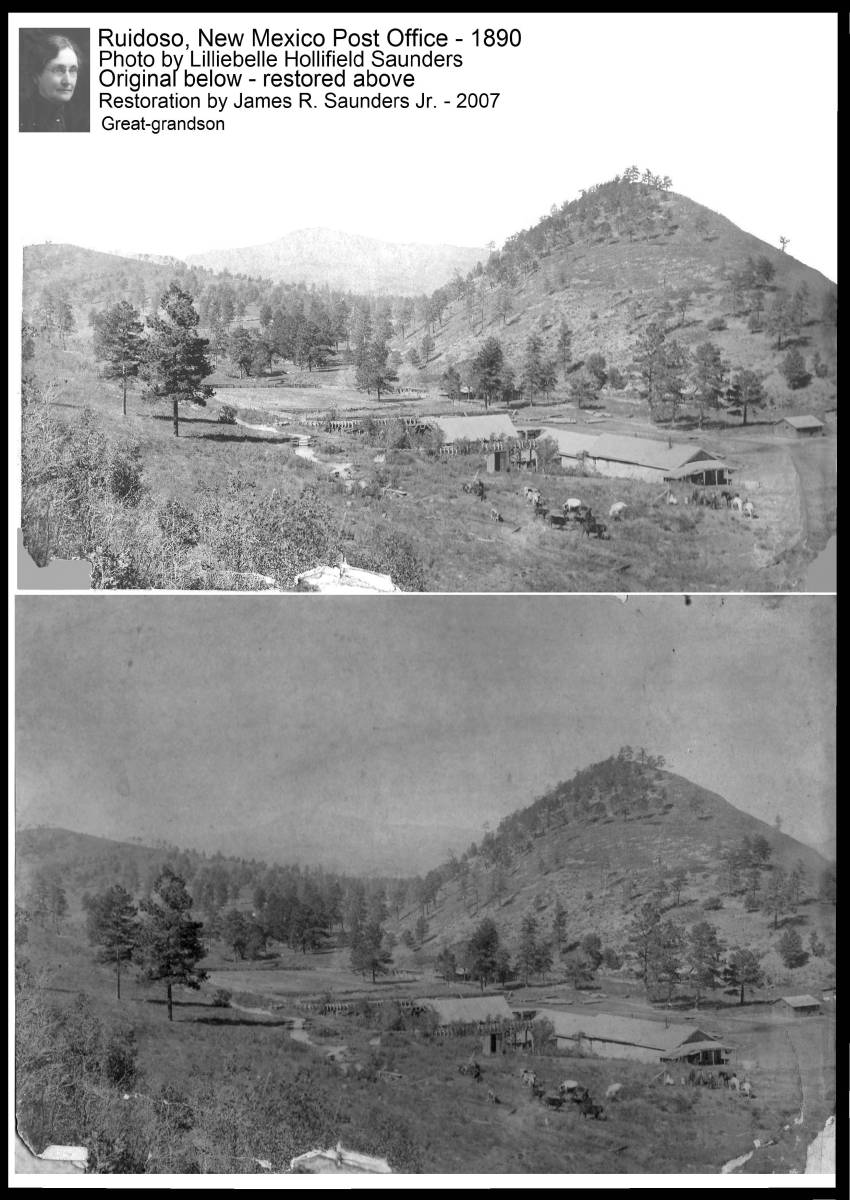 The photographs above are of a historical site known as "Dowlin's Mill" in Ruidoso, New Mexico. In 1890 Dowlin's Mill was the only civilization in Ruidoso other than Fort Stanton. My great grandmother pictured above in inset was a remarkable woman. She was a school teacher (and photographer) who was employed by the federal government as a teacher on the Apache Indian Reservation. She was forced to flee eastward across Texas in a covered wagon during Geronimo's last rampage.
____________________________________
The images below are not the oldest, but in many ways are my favorites. They were drawn freehand by my father while stationed at Pearl Harbor, Hawaii in World War II. He was a young architect having only just graduated from Rice University and then enlisting in 1942. He was assigned to the staff of Admiral Chester Nimitz and spent eighteen hours a day reviewing reconnaissance photographs, interrogating prisoners, and drawing maps for strike missions against the enemy. The images were drawn and mailed to my mother from Pearl Harbor. The girl in them very closely resembles my mother in the early 1940s. As you can see from the originals they had been folded, mailed, and browned from age. There is something intangible in them that moves me emotionally. I hope you enjoy them too.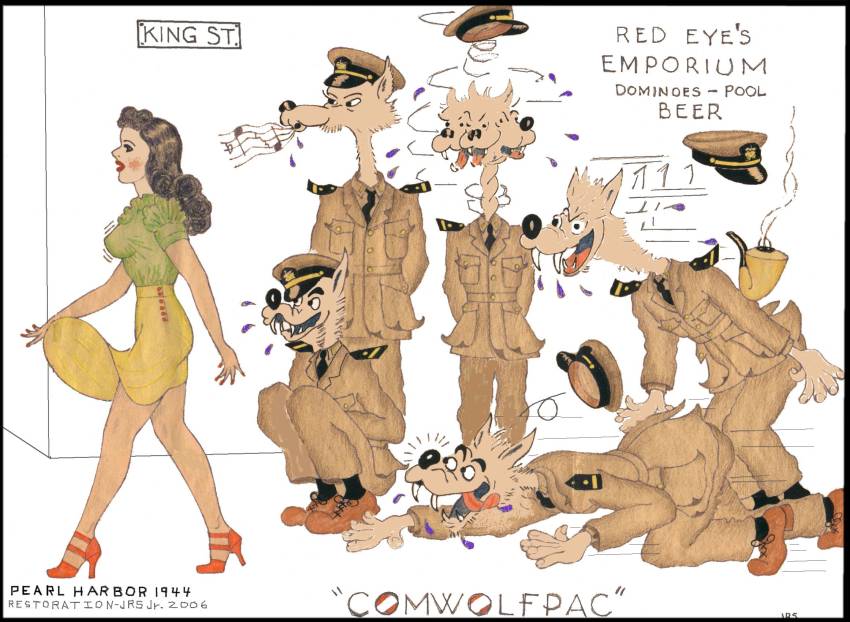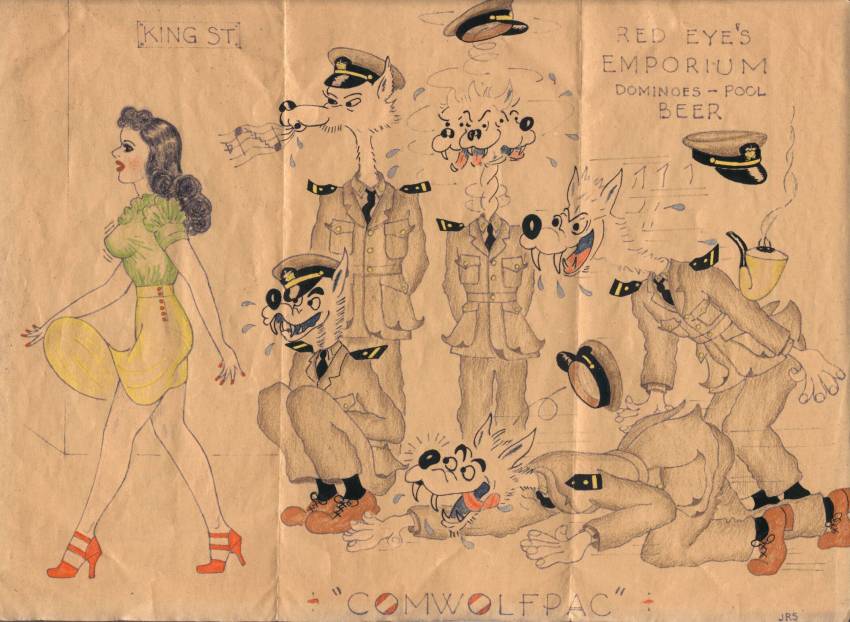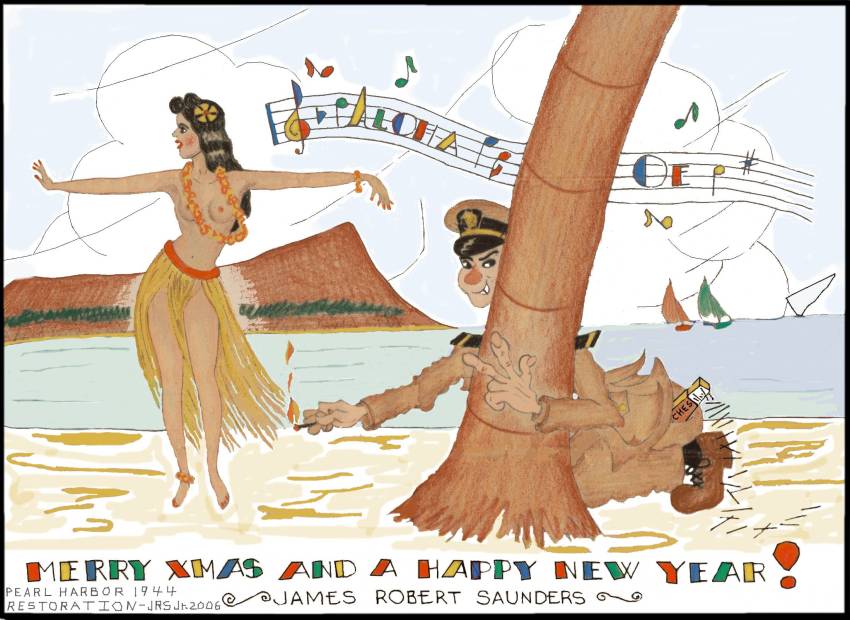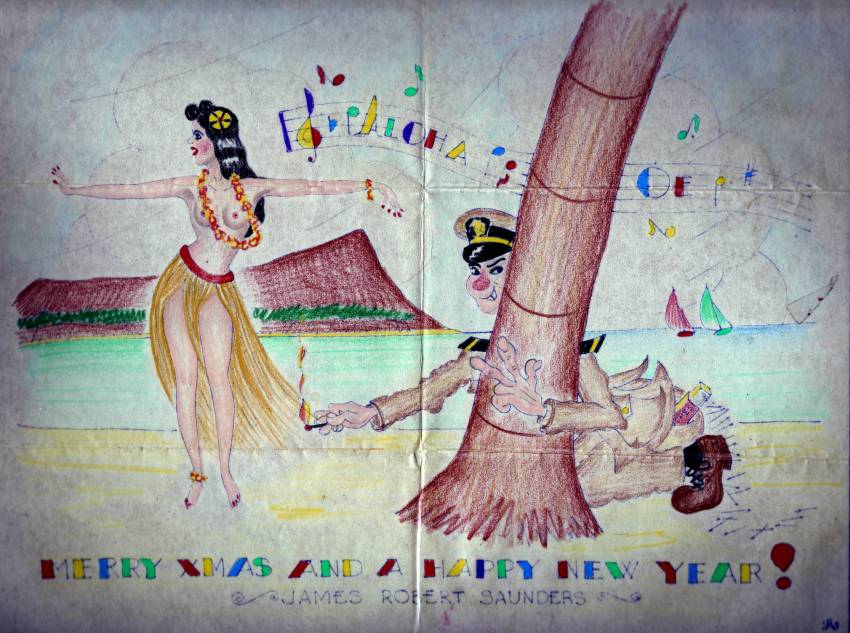 ______________________________________________________________________________________________________
The following are examples of documents that are important or unusual and are deserving of restoration and exhibition. The first is my Diploma from the University of Houston which required seven years of night school to acquire. The second has historical significance. As a younger man I dabbled in politics and as a result was actually invited to the Inauguration of Richard Nixon and Spiro Agnew. This is interesting in itself but is made moreso when one considers the ultimate resolution of both men's political careers. Agnew was forced to resign as Vice-president because of allegations he received "kick-backs" from construction companies while Governor of Maryland. Richard Nixon was forced from the White House by the Watergate Scandal. There are probably very few of these original invitations still in existence.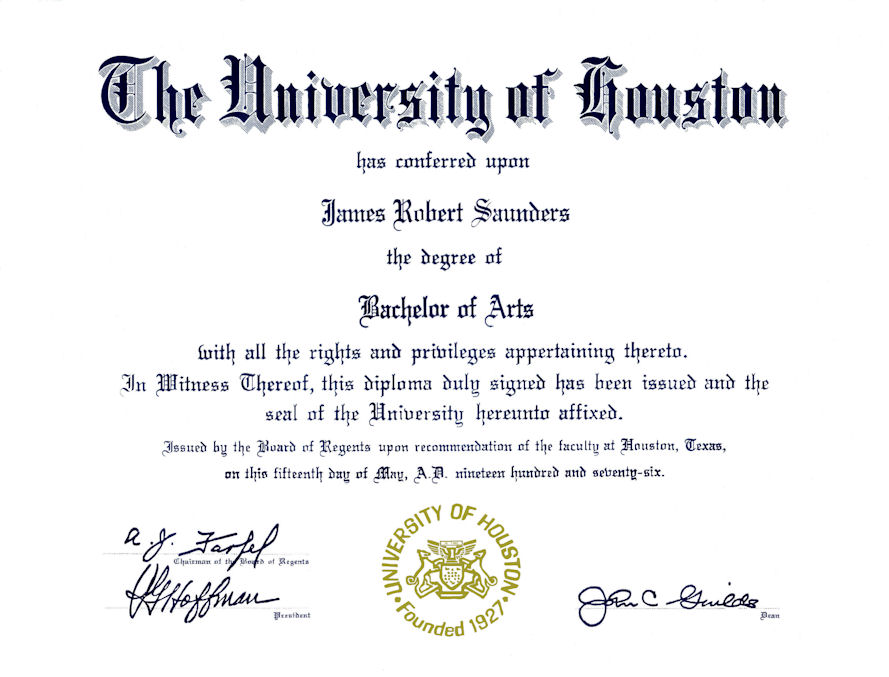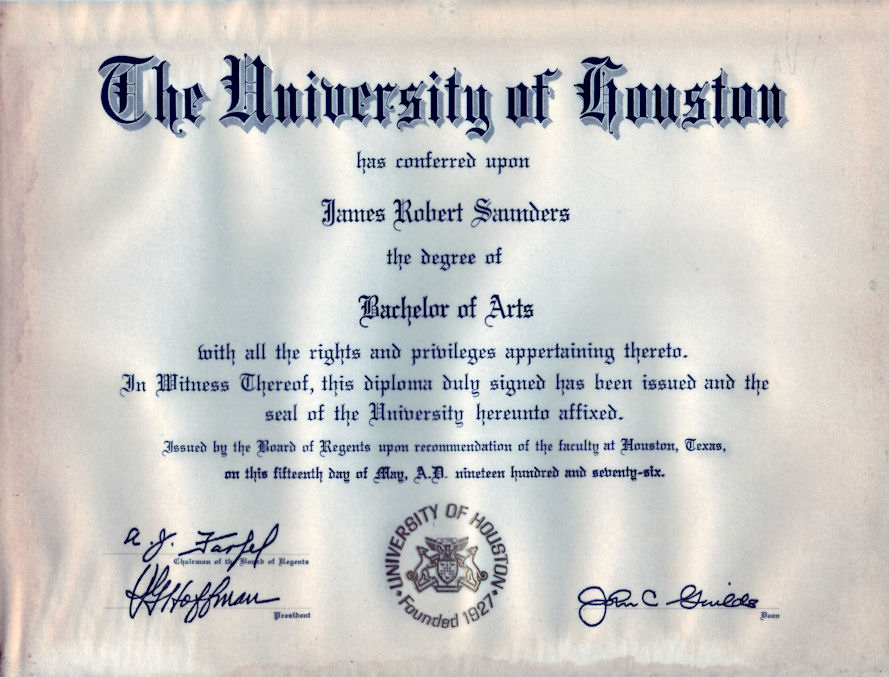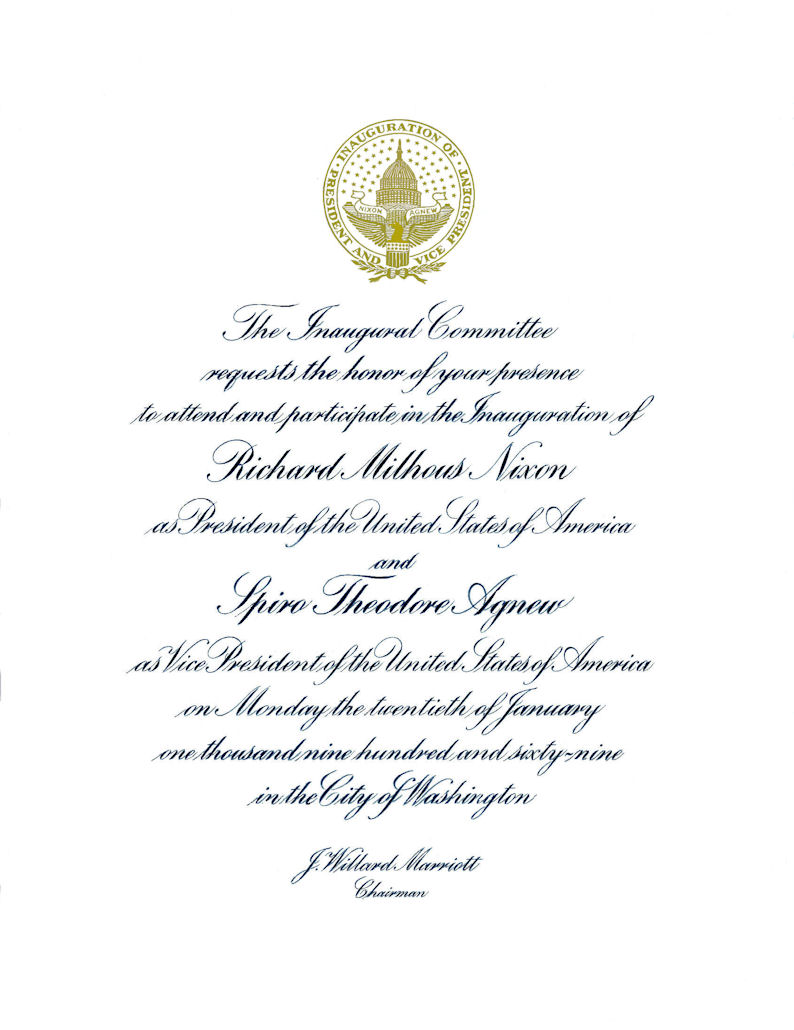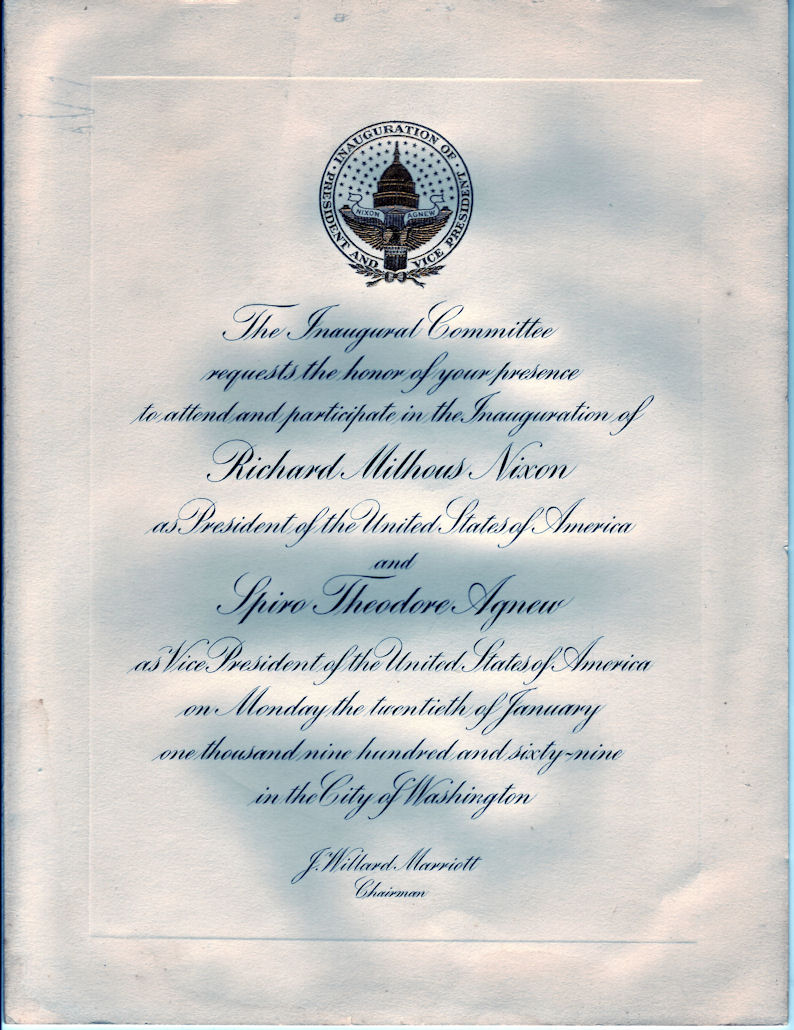 The Visible Spectrum