Greeves
Murray
The known history of the Greeves side of the Saunders family begins on New Year's Day, 1821 in Dunrobin, Scotland with the birth of Robert Murray who was to become the grandfather of Fanny Greeves Saunders, daughter of Orlo Bruce Greeves. Robert Murray immigrated to Nova Scotia, Canada in an undetermined year where he met and married Annie Sutherland who was born on September 15, 1829 in Coalcester County, Nova Scotia, Canada. Born to them on May 15, 1854 was Annie Murray, also in Coalcester County, Nova Scotia, Canada - who was to become the wife of Orlo Bruce Greeves, and mother of Fanny Greeves Saunders. (Here there is a possible connection to Canadian actor Donald Sutherland and his son Keifer.)
Orlo Bruce Greeves, was born December 21, 1856 in Fredericton, New Brunswick, Canada. He was later to marry Annie Murray, move to Beaumont, Texas, and become the patriarch of a large and prosperous family. Orlo Bruce Greeves would found an iron works, invest in Spindletop, first major oil strike west of the Mississippi, and become a wealthy man and leading community member. His youngest child by his first wife Annie, who would later die tragically from injuries sustained in a house fire, was Fanny Greeves Saunders who would later marry Clifford Henry Saunders, brother of Myrtle Saunders, the author of the lengthy and detailed information contained in the Saunders section of the web site.
Much of the Greeves history is pictorial and word of mouth from generation to generation. Fortunately, being Scotch, the family was "clannish" with family members keeping close contact with each other and everyone hearing all the same stories and committing them to memory. I, James R. Saunders Jr., was fortunate enough to have known many of the older generations well and to have heard these stories and commit them to memory. Many will be presented subsequently along with pictures to give "flesh" to the spoken / written word. These "oldsters" were fixtures in my early life and into young adulthood (I was born in 1949) and hearing all these old stories was fascinating to me every time they were told and retold at every family gathering on Christmas, Thanksgiving, Easter, Mother's Day, etc... We were "clannish" and spent a lot of time socializing with each other. I feel sorry for others who never experienced the depth of family I did with members from five generations often present at one event simultaneously. To me, it seems like I know people well who died before I was born.
I have come to cherish this sense of continuity and wish to share it with you now.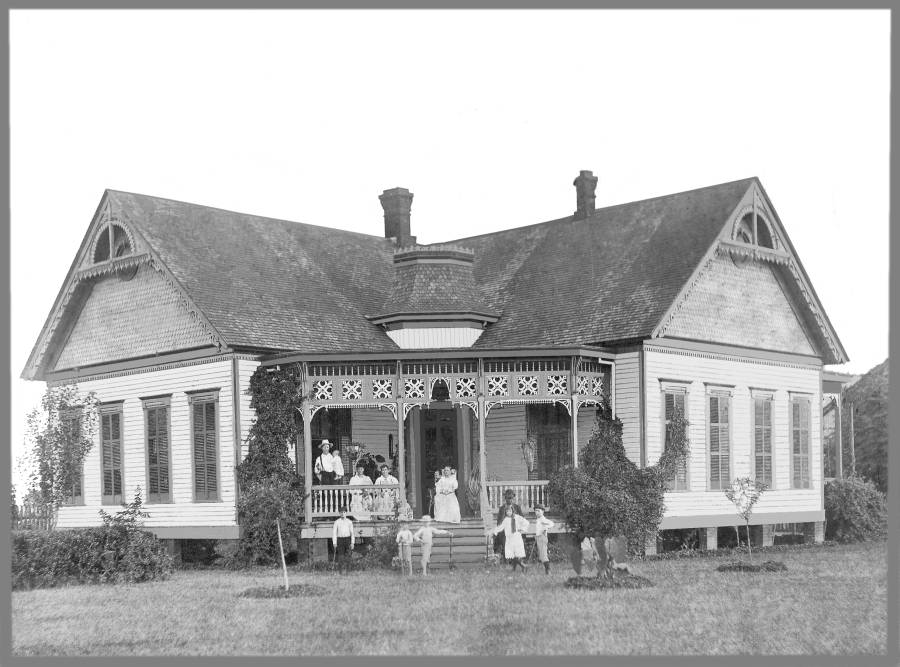 The picture above is the original O. B. Greeves home in Beaumont, Texas. It was taken Easter Sunday - April 14, 1895. I'm sure it was an idyllic time for the Greeves family. They had wealth and all that goes with wealth. This was without doubt the home of wealthy people as they were in 1895. An examination of the relative size of persons to the house demonstrates it was very large with much still hidden behind the visible part. I know from stories that a stable, barn, tack room, and sizable garden existed just out of sight. The intricate carved moldings on the edges of the home and front porch show that this house had all the "bells and whistles" for a house of the time.
On the left of the front porch, holding the baby, is Orlo Bruce Greeves who was 39 at this time. The baby is Fanny Greeves, later to become Fanny Saunders. The two ladies closest to him are unknown, but probably sisters of his wife, Annie Greeves, seated in the middle of the porch. The children in front are from right to left: Bruce, Sadie, Carnie, and Olie. The child at far left is unknown.
It is very sad that great tragedy awaited all these people in the near future. A little over a year later, in 1896, Annie Greeves would sustain injuries that would shortly thereafter take her life when this house caught fire in the kitchen. Being a very proper and well heeled lady, Annie was dressed in the encumbering heavy dress with multiple petticoats common to ladies of means at the time. Her clothes caught fire and by the time they were extinguished she was mortally injured. Her son Carnie witnessed this horrific event and was haunted by the sight for the remainder of his life.
Shortly after this fire Orlo Bruce built a new home in downtown Beaumont and married a second time to Sue Baker. They had five children together: Sybil, Bob, Sam, Helen, and O.B. Since Orlo and Bruce had already been used in the names of other children, O.B. was just named O.B. with the letters not being short for anything. He spent much of his life explaining this to people. The new home, which ironically was always referred to as the "old home" by the younger set of children, was very swanky for the time. It is still in existence today (2007). However, the third story has been removed and it has been turned on the lot from its' original orientation. During the time the Greeves owned it, the house sat alone on an entire block of land. Later this land was gradually divided into lots and other houses were built around the home until it took on the appearance of a conventional neighborhood.
The article following was published in the local Beaumont newspaper in the early 1960s. It explains much. It is entirely factual and well researched. Read it, and then read on.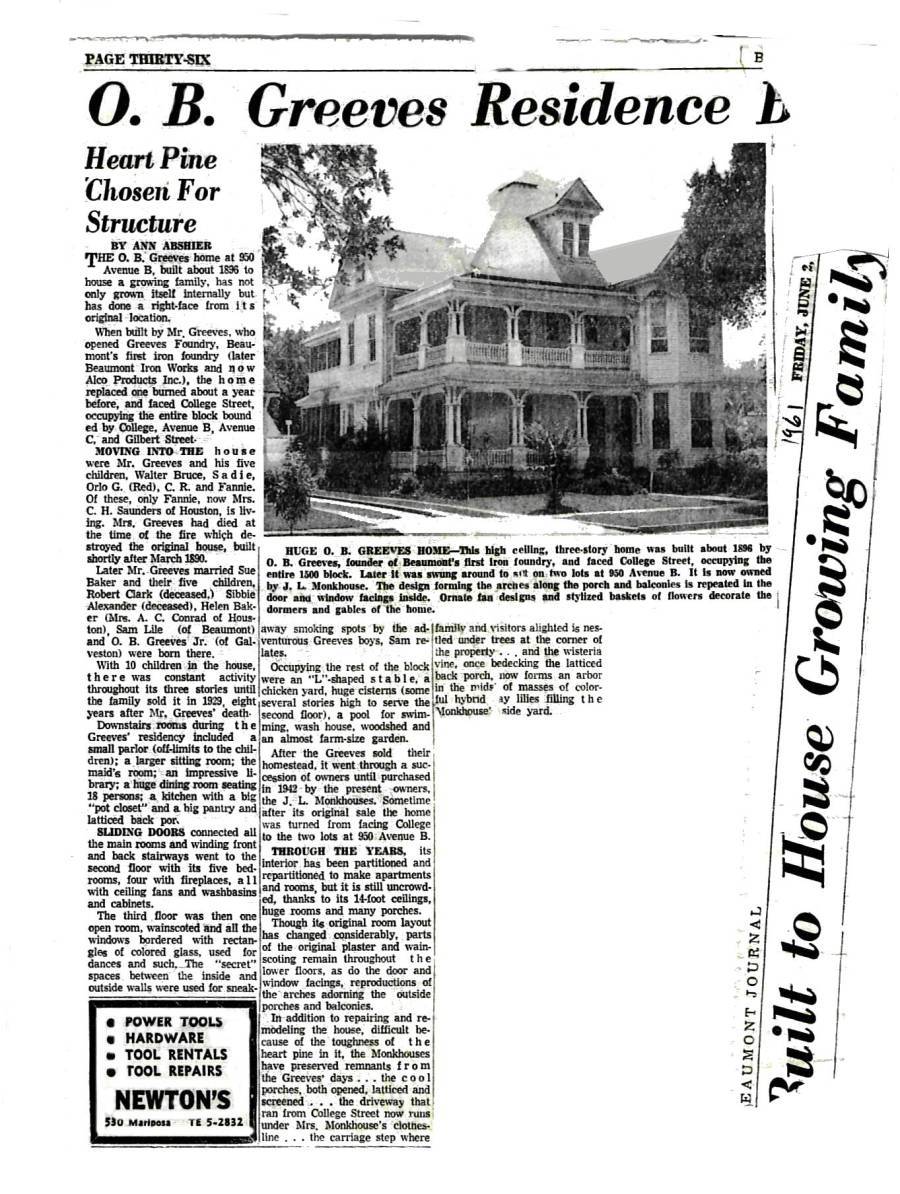 Current photographs of the second "old home" are available in an excellent photographic essay compiled by Lisa Saunders Baugh while on a business trip to Beaumont in September of 2007. This photo essay well documents the Greeves grave plot in Magnolia Cemetery as well as the "old home". A link to this photo essay will be found immediately below.
The history of the Greeves family will be told with text and photographs in another section. It will include photographs from the 1800s to modern days, living memories committed to writing, and anecdotal information passed from generation to generation. I hope you enjoy it. (James R. Saunders Jr. 2007)
HOME PAGE GREEVES LINK PAGE LISA SAUNDERS BAUGH PHOTO ESSAY