A U B E R T I N
The history of the Aubertin side of the family consists of oral tradition going back to circa 1790, written history from 1819 to the present, and informed speculation. Oral tradition will be presented first.
Oral tradition has it that circa 1790, the year the French Revolution began, a French nobleman, Les Marquis d'Aubison, left France for Denmark to escape the guillotine. There he changed his name to Aubertin, married, and had at least one son whose name was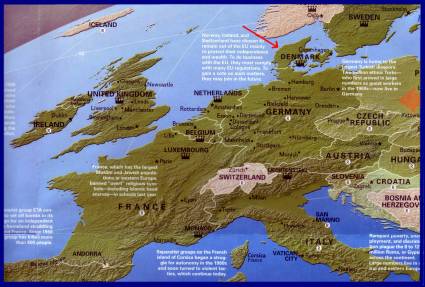 Christian Auberin. This child grew up in Denmark, married, and had at least two sons, one who was named Fredoline August Theobole Aubertin who was born in Copenhagen, Denmark in 1819. This begins the written history of the Aubertins.
The written history of the Aubertins is obtained almost exclusively from three pages of the Aubertin Family Bible. These pages were thought to be lost until discovered in the effects of Rebecca Aubertin Saunders after her death. The Aubertin Family Bible had deteriorated over the years. The pages were largely intact but the binding had almost completely disintegrated making it impossible to turn pages and look through it without it falling apart in pieces. These pages had been removed from the Bible and had been stored in a separate folder to preserve them. They were preserved, but not easily found. These pages will be presented below in due course. First their contents will be presented in coherent form. The following is their contents:
Fredoline August Theobole Aubertin - Born in Copenhagen, Denmark in 1819. He died February 17, 1864.
Hannah Shooter - Born at Leeds, Yorkshire, England November 8, 1833. She died January 16, 1890.
Fredoline Aubertin and Hannah Shooter Aubertin had three children, two of which died in early childhood.
George Christian Aubertin was born at Sabine Pass, Texas on July 6, 1855. He died about 1860.
Mary Jane Aubertin was born November 10, 1857. She died about 1861.
William James Aubertin was born at Moriss Cove, Harris County, Texas January 17, 1863. He died August 4, 1910.
Here the narrative becomes interesting and one cannot help but speculate. On February 6, 1866 Hannah Shooter Aubertin marries:
James Williams who was (supposedly) born in Wales about 1830 and dies April 2, 1867.
Fredoline Aubertin, Hannah's first husband, was a sea captain who during this time, the War Between the States, was undoubtedly a Confederate blockade runner. As a foreign national engaged in this activity he would have been considered by the United States Government to be an arms dealer and war profiteer. To the Confederacy he was a true "Son of the South" and Confederate Patriot. He was probably carrying cotton to England and returning with war material to sustain the South. He would have had a price on his head even after the war. He, if living, would have undoubtedly found it convenient to fake his death and adopt an alias. As after World War II there was the Odessa organization to help Nazis escape Allied justice, there were similar organizations during this time to help Confederate important persons escape Yankee justice by helping them to establish aliases so they could live freely.
One would have to be deaf, dumb, blind, and stupid to not wonder at the coincidence of Fredoline and Hannah Aubertin having a son named William James and after Fredoline's death her marrying a man named James Williams. One could easily speculate that this man was actually Fredoline Aubertin engaging a clumsy attempt to become someone else.
On March 10, 1870 Hannah Shooter Aubertin Williams marries:
Richard E. Lusk who was born in Kentucky on August 28, 1820 and died January 24, 1893. Family oral tradition has always passed on the phrase that R. E. Lusk raised William James Aubertin "as his own son". It is easy to speculate that William James was actually his son. Or, it is possible to speculate that Fredoline Aubertin took on the alias of James Williams and then did actually die in 1867. Or, is it possible that Fredoline Aubertin, having made a clumsy attempt at his first alias, then with help adopted the alias of Richard E. Lusk, continued to live with his family, and this time managed to keep the secret properly with only oral tradition passing on the truth to observant and inquisitive descendants.
Reader, when you review the Bible pages presented subsequently you will notice that dates and places are omitted in such a fashion as to make it impossible to determine the truth from the available record. As example, in some places only country of birth or year of birth or death is given when it is reasonable to think that the omitted information was probably known. One could speculate that this was by design. My, James R. Saunders Jr., college degree is in Communications. I have been formally trained as an investigative journalist and have a well developed sense of BS, and not the BS pertaining to college degrees. My BS meter is sounding loudly as I research the Aubertins. We will probably never really know; but, I think Fredoline and Hannah Aubertin may have put one over on everyone for close to 150 years. If so, congratulations great, great, granddad and grandma, nicely done.
William James Aubertin, son of Fredoline and Hannah on November 13, 1890 married:
Rebecca Ann Ratliff who was born March 29, 1870 at Roans Prairie in Grimes County, Texas. She died in September of 1952. They had two children:
Trulah Aubertin (Burwell) who was born on the corner of Harrington and Montgomery Avenues on September 5, 1891 and died in December of 1944.
William James Aubertin Jr. who was born on the corner of Harrington and Montgomery Avenues on July 28, 1894 and died August 4, 1948.
The records also give that there was a Mary Ann Ratliff who died on April 13, 1912. No date or place of birth is given. It is unknown who this person was exactly. It is probably reasonable to surmise this person was either Rebecca Ratliff Aubertin's mother or unmarried sister.
William James Aubertin Jr. on June 15, 1918 married:
Bernice Pressly who was born on _____ 1895 and died on _____ 1984. They had three children:
Marian Aubertin who was born on ______ 1919 and is presently living.
Rebecca Aubertin who was born on October 6, 1921 and died June 12, 2007.
William James Aubertin III (or Jr.) who was born on April __, 1926 and is presently living.
Marian Aubertin Bursiel (now Rylander) had three children: Charles Anthony Bursiel, Marilyn Bursiel, and William A. Bursiel. All are presently living.
Rebecca Aubertin Saunders had three children: Patricia Aubertin Saunders born in 1945, James Robert Saunders Jr. born in 1949, and Clifford Henry Saunders II born in 1953. All are presently living.
William James Aubertin III (Jr.) had one child. In what was a family tragedy his son passed away when only a day and a half old.
Patricia Aubertin Saunders St. Germain has one son, Justin Harrison who is presently living and married to wife Trish.
James Robert Saunders Saunders Jr. has one daughter, Lisa Saunders Baugh who is presently living with husband Simon.
Clifford Henry Saunders II has three daughters, Joanne, Lori, and Rebecca. All are presently living.
Joanne Saunders Johnson has two daughters with husband Bobby, Alexis and Elizabeth. All are living.
This history was prepared in the Autumn of 2007.
Below are the three pages from the Aubertin Family Bible referenced earlier. The center data portion have been subjected to restorative processes to provide legibility This is a hobby of mine. - JRS -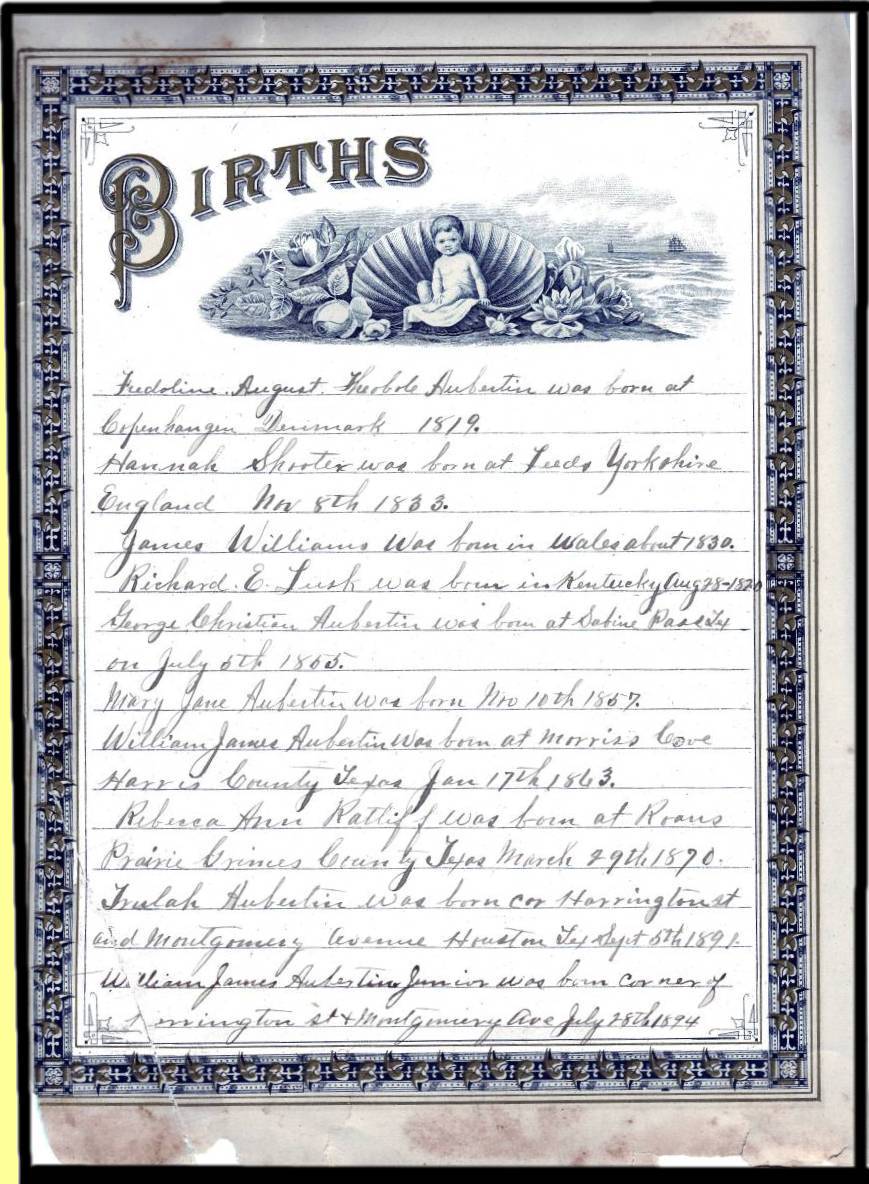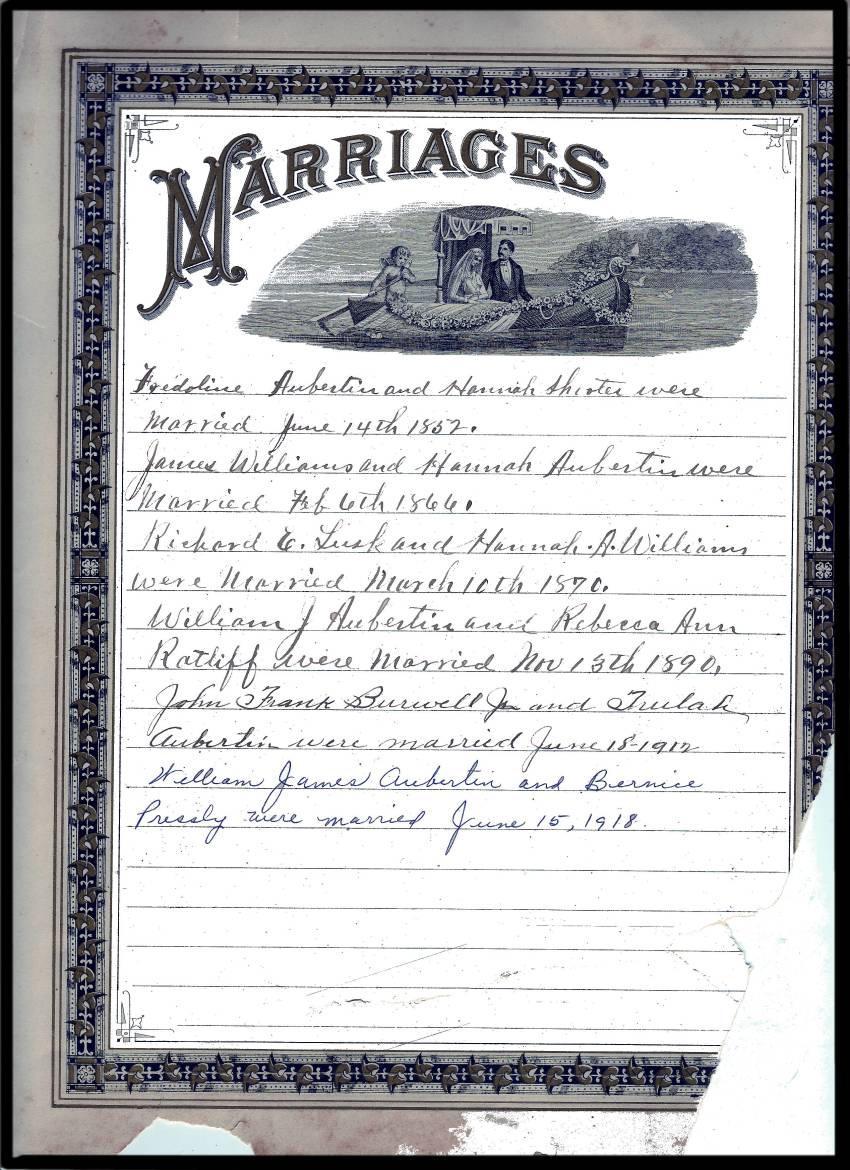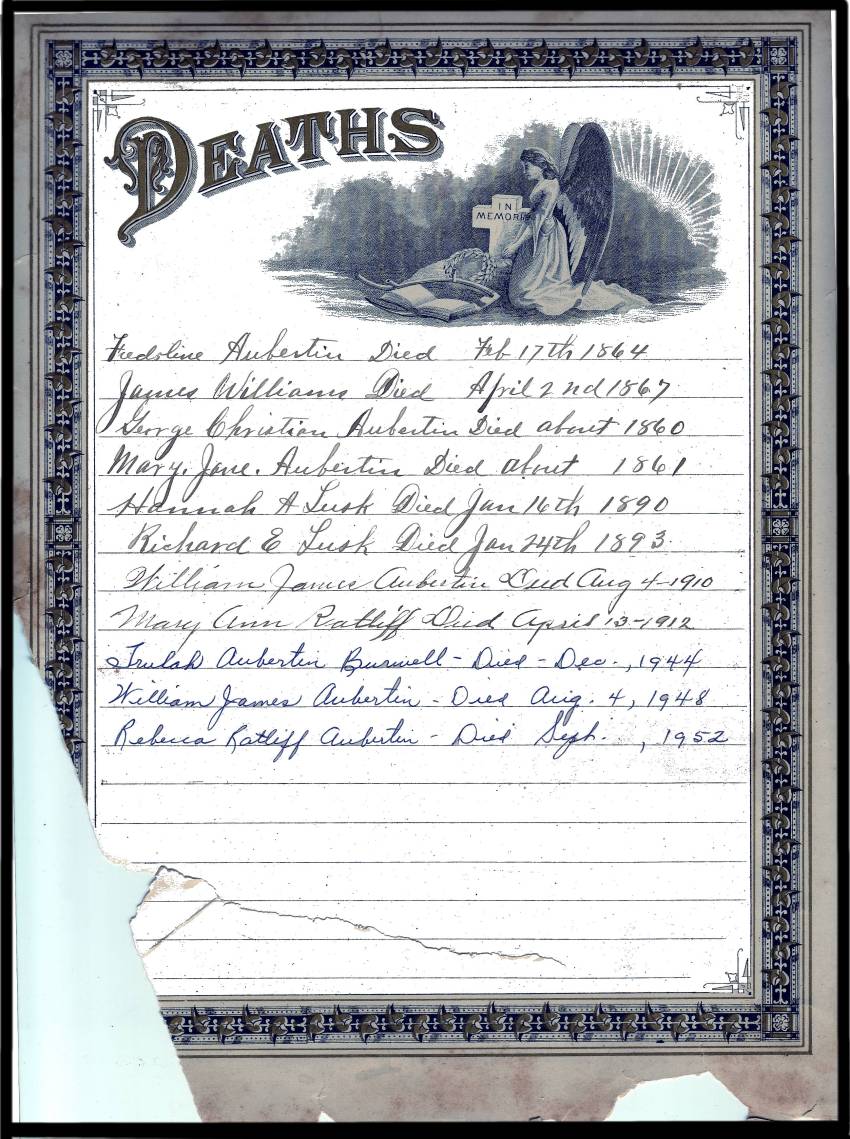 Below is a United States Census form from 1880 listing R. E. Lusk, Hannah Aubertin Lusk, and William James Aubertin.